Well I'll do it here as I listen to the Midnight Crew CD Quazomb put on tumblr.
This will be by far the worst summary of the Intermission. I'm going by memory and really only focusing on overall plot relevance. Doesn't help that I can't remember which felt is which and which one can do what. Gah, whatever, that's what the internet is for. I'm going to go all interactive and shit and give you pictures. So this is slowly becoming more of a ramble and less of a summary. I'm updating this paragraph here as I go along. Don't expect it to make sense, it's more for my sanity. By the way Quazomb, loving this CD. OH MY FUCK THIS IS TEDIOUS.
You have the
Midnight Crew
, and The Felt. (I'd have colored Midnight Crew black, but then it would shave shown as invisible and that's kind of large caveat.)
Midnight CrewSpades Slick.
(Fuck I love google images.)
He is the leader of the Midnight Crew and an Agent of Derse just like the rest of the crew. He's a Quick tempered assfuck who just wants to get rid of
The Felt
and ultimately Lord English. I will occasionally get him confused with Diamonds Droog. Droog is taller, problem solved.
Hearts Boxcars.
The Muscle of the
Midnight Crew
. He's pretty much just this large man who enjoys calling people "runt" and eating eggs. BAZINGA! As stated earlier, an Agent of Derse.
Diamonds Droog.
Easily the smartest of the Midnight Crew. He likes to kill people and shit. As does the rest of the crew
and shit
. Still an agent of Derse.
Clubs Deuce.
Pretty much the little kid with assburgers of the Midnight Crew. By far not the brightest of the bunch, although he does have a multitude of hats. And you guessed it, still an agent of Derse, that fact won't change.
The Felt
Fuck me in the man cunt this is going to take a while. I'm just going to list names pictures and powers of these guys. Except for Snowball. Because of important shit and shtuffs.
Itchy.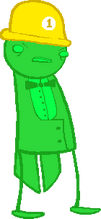 Can slow down time relative to himself, giving the allusion of being one fast mother fucker. Killed by Spades Slick.
Doze.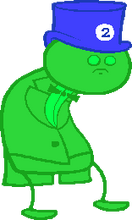 Doze can slow down time, but only for himself. So he's pretty much just a mentally handicapped monkey who stands there unawares of everything.
Taken out by Clubs Deuce.
Trace.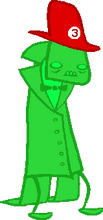 Trace can see where people have been in the past through some sort of weird ass floating long intestine and subsequently fuck with people in the past while safely in the present. Only problem is that alerts you to where he will be in the future. Clubs Deuce was the cause of his untimely demise.
Clover.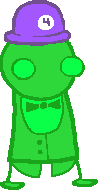 This bitch is pretty luck, all there really is to say about it. Presumed dead in the safe explosion, but he's pretty fucking lucky so who knows.
Fin.
His power is the opposite of Trace's. Through some weird disemboweled long intestine, Fin can see where people will be in the future. Through some weird time shit that I can't even fucking begin to comprehend, Diamonds Droog repeatedly open fired into an empty room killing Fin.
Die.

This mother fucker has some confusing ass voodoo doll which can take you to an alternate timeline. I had no fucking clue what was happening with the bitch, all I know is that Spades Slick diededed Die.
Crowbar.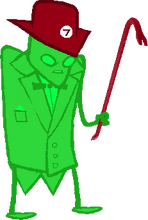 Has a crowbar that can destroy and undo all time wimey wibbly wobbly weird shit that that item causes. Un-killed by Spades Slick the re-killed.
Snowman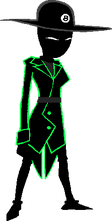 Pretty much one of the most important members of
The Felt
. If you kill her the universe ends. Baddah boom baddah bang. *Mr. Jeebles does his best Mafia Man impression* She ends up slicing slicks eye and cutting off his arm.
Stitch.
He's a tailor, and he tailors to Lord English's coat which rips when there's weird time shit happening. He also has odd effigies of people which get fucked up when the actual person of who the effigie is injured, he can patch these effigies up as sort of a healing mechanism. Killed by Spades.
Sawbuck.
RANDOM FUCKING TIME TRAVEL WHEN INJURED OR CAUSES INJURY. VERY ANNOYING AND VERY HARD TO KILL. Spades Slick tittifucks this bastard into oblivion. No, Spades does not actually stick his member in-between Sawbuck's large breasticles until death occurred.
Matchsticks
weird and confusing time travel involving fire. There's more on this dude but it will happen where the story currently is, therefore I won't say to avoid spoilers for Vivi.
Eggs.
Can travel back in time up to one hour with his egg timer. Although he can do it with each and every one of his timelines which leads to a seemingly infinite amount of eggs. Eaten by Hearts Boxcars. BAZINGA!
Biscuits.
He puts himself in an oven for an indiscriminate amount of time and believes he's traveled forward in time the amount of time he set the oven for. In reality he just sits in an oven for that long. So his power is sitting in an oven believing he's moving forward in time. Which he is. And so are you. And so am I. Did I get the point across? Eggs likes to hold onto the oven when he travels in time so he takes Biscuits with him a lot. Clubs Deuce put a time bomb in the oven with Biscuits that would go off when the timer in the oven ran out.
Quarters.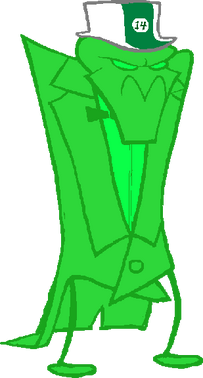 Seriously, I don't fucking know. He has a mini-gun and some quarters. Vuala. Spoilers on this guy. Weird time shit yadda yadda yadda.
Cans.
He can punch you into next week. Literally. He does this to Diamonds Droog who is grocery shopping at that point in the future. He dies through more weird unexplained time shit.
Doc Scratch.
Everything about this mother fucker is spoilers.
Lord English.
No one fucking knows shit about him yet.
Ok, those are the members and what they've done. For everyone in the Midnight Crew, it's important that you remember what their names start with. Snowball is quite important later on as is Doc Scratch. Saying they're important is really all I can do.
What's also important is the ending
Spades Slick ends up in this room. Baddah boom baddah bing. END INTERMISSION.