Hi, Slender Man Mythos. It's me, DJay. The guy who wrote the Slender Man as a trilby-wearing scarf-wearing
Guitar Hero
 player in a story that was perfectly serious and still holds no regrets over it. Today I want to give you something very special.
Here is Viceking's Graab.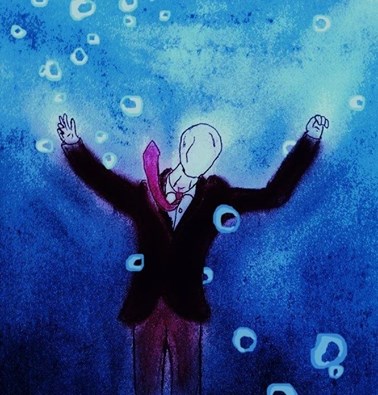 The
Graab
is something I've been working on since January, when I realized I loved blogging but hated the tedious and narrow-minded crawl it had become. I'm sure I'm not the only one. I mean, blogging works very well as a vehicle for narratives, but surely there has to be an option to use blogs as
more
, right? And the Slender Man, sure, he works just fine as the conventional horror myth he's become, but I think it would entirely be worth exploring him as something more like an archetype.
What I'm trying to say is I have spent the past several months designing a blog labyrinth about a tomb where, written all over the walls, you get to learn the fragmented and contradicting accounts of a very brilliant downfall.
This is even more of a Slender Man project than it is a Fear Mythos one, though you're gonna have to put up with Fear metaphors if you want to uncover all the secrets and get properly lost in the pyramid.
I just. I guarantee you that you will be surprised by what you find. There's art by The Visitor, Hexillith, TheArtist, Logic, and myself. There's tons of images. There's tons of words.
And hey, if you want to start somewhere more conventional,
here's the official strategy guide.
It's got an introduction, tips and tricks, it's got it all. Kinda.
*bows* As always, thank you for your time.